My beautiful sister had her baby boy last week. He was 11lbs 2oz (yes, you read that right) and 23 inches long. My mother flew out to Utah yesterday to be with her. I spent much of last week sewing so I could get things done to send with her. Here's how things turned out.
First, I knew my sister had to have a nursing cover. This is her 4th baby, and she's always used a blanket to cover up for nursing. I didn't discover the joy of nursing covers until my second baby, and I can tell you, I'm never going back! I figured this would be the perfect way to spoil her during all that quality time she'll be spending with baby.
I knew I wanted to make one with two layers of fabric. Last time I was nursing, I had two nursing covers, one with two layers and one with only one. I found that the cover with only one layer was too easy for baby to brush out of the way. One good kick would send that light weight cover floating off of all the parts I wanted hidden. I decided to make it reversible.
Here's the other side.
Even though there are tons of useful tutorials online for making nursing covers, I went a different route this time and got instructions from my friend who made mine. I altered her instructions just a bit, but I still think it turned out really well, especially for my first time making one. I think I might have to make myself a new one for my next baby.
Next, I made her a car seat canopy, or "greeter deterrent," as they have also appropriately been called. This was SUCH an easy project to throw together! Well, mostly easy. I did run into one major snag related to my sewing supplies, but I'll get to that later.
I love how it turned out!
Adorable buttons.
And for a little extra decoration, I did two rows of topstitching: green and aqua on the top layer and aqua and dark blue on the bottom layer. I'll have to branch out and try some fancy stitches on my sewing machine next time. I'll have to experiment and see what "Old Reliable" even has to offer in that department.
There are all kinds of great tutorials on the web for car seat covers. Cluck Cluck Sew's is the first one I found. And here are a couple more:
I kind of read through the instructions on all of them to learn the basics and winged it when I actually did it. Any one of these tutorials would be really helpful to anyone wanting to learn how to make one.
And just in case there was any question that my house is occupied by little girls, I'll give you a peek at what was hiding underneath the car seat canopy:
My littlest is obsessed with small dolls she can carry around. She has quite a few Strawberry Shortcake figures, but she's constantly stealing her sister's Tinker Bell fairies. She thought the car seat seemed like the perfect place to stash her "girls."
Oh, and I guess I was going to tell you about my velcro catastrophe. I had all my supplies for the canopy, but when I purchased things, I purposely didn't buy velcro for the straps. I knew I had plenty at home from one of my Christmas projects. Well, when it came time to sew on the velcro Friday evening, I searched my house and all my disorganized crafts (I've got to do something about that). I couldn't find my velcro anywhere! After all my searching, I only had a little time to swing by Joanne's before I had to be at my friend's house for a girls' night. Joanne's failed me! They only had black sew-on velcro, and I didn't want to buy the no sew white velcro (even though I could still sew it on) because it was more expensive. (I was feeling stubborn.)
Saturday, the day I was supposed to get things to my mother before she left, I went across town where there were several stores I could try to find velcro. I started at Wal-mart because it was the nearest stop. They too only had no sew velcro in white, but it was at least a better price. I was feeling a little more flexible, so I decided to quit my search and just sew on the sticky back velcro. BAD IDEA! Once I got home and tried it, my needle on my machine got so gummed up by the glue that it wouldn't pick up the bobbin thread. My mother was running errands and then she was going to come by my house to pick things up. I took a chance and called to ask where she was. She was at Fred Meyer, but I had her check for it on a long shot. Long story slightly shorter: my mother and Fred Meyer saved my car seat cover!!
So all my blathering aside, just let that be a lesson that you make sure you have the supplies before you get started!
And I guess I won't waste any more of your time with a rant about how hard it is to find decent prints suitable for a boy locally. Even things that are the right color have flowers or hearts these days! Have any of you had that problem?
My sister called me on Sunday after my mother arrived. She loves everything I sent for her. I also made the little guy a hat, but I'll share that later.
What projects have you been working on? Have you discovered the joy of nursing covers? Do you know any places I could find great prints for boys that don't cost $16 a yard? Don't forget to enter the giveaway for 5 patterns from LuvlyGurumi (see sidebar)!
I'm sharing this post with: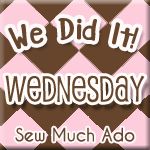 *Personal note: given to Beth/Nathan