(This is late getting up here. I was having trouble publishing, and then I forgot to try again until now.)
My wee little blog was featured over at What Allie's Making Now! She added me to her "Making it with Allie" features this week for my post about my daughter's dog party. I'm so glad people liked my ideas. I was so worried about that party! Check out her blog for all sorts of crafty ideas.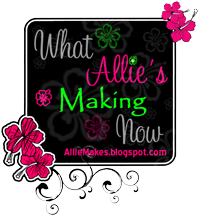 Whoops! I guess I spoke too soon. Revision: I have been featured for the dog party on not one, but two blogs. I just wandered over to Lamb Around recently and found that I've been featured there, too!
I never thought that party would be such a hit. I'm so flattered.