My little sis had a birthday last month, and I took it as the perfect opportunity to use some of my extra fabric I had from some of my projects I did for Christmas. I made her a gathered clutch from a tutorial by Noodlehead that I've been meaning to try forever. This was my first time doing a gather! The tutorial is really helpful, and when I had a question, Anna e-mailed me back in a timely manner to help me out. I just love finding such talented and encouraging people online! I really like how the clutch turned out, and I hope my sister is enjoying it.
(back)
Woops! Forgot to wash off the fabric pen for pictures!
I didn't make the pockets tight for credit cards since my sister is only 14, so I doubt she carries much plastic. I put a big pocket on one side and two pockets on the other side.
Wanna know my worst crafting Achilles heel? I never get around to making things for myself/my home/my kids. I actually had enough fabric that I cut out pieces to make a slightly different one for myself. The pieces are still sitting on my dresser where I see them every day and think, "Oh yeah, I was going to make that for myself." I think it's hard for me to spend the time to make it when I'm doing it for myself; it feels like double selfishness (does that make any sense?). And when it comes to stuff for my house or my kids, I think the problem is that there's no deadline. I can do it whenever I get around to it, so more important things like laundry, feeding kids, and (to be honest) loafing on the couch take priority. I do better with gifts because I know I have to finish them by a certain time. Not to mention the fact that if I don't already have supplies for a project for myself, I have to justify spending money on myself to even get started. See? I have all sorts of hang-ups. Which is why that's my crafting Achilles heel.
Do you have a crafting Achilles heel? Which do you make more, gifts or projects for your own home/family? Have you made anything fun lately? You're always welcome here at the Spare Time Continuum. Feel free to join my followers. They are small in number but great in character.
I hope you're having a wonderful week. Mine is about to become wonderful. My hubby's on his way home from his last grad school class for the week, and my big sister is coming to visit for the weekend.
I'm sharing this post with . . .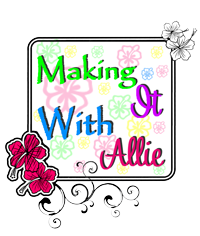 *Personal note: given to Kenzie